The Clipsal Cortex Meter is easy to install and commission. It measures energy usage of the main circuits and appliances in real-time which is a unique selling point for homeowners.
What comes in the standard package
The standard package comes with two boxes containing the following:
Smart monitoring box:

1 x Quick Install Guide
1 x Meter
1 x Current Terminal Block (plugged into the meter)
1 x Voltage Terminal Block (with wires)
1 x Screw-in Cellular Antenna
1 x Meter Serial Sticker Set

Current transformer box:

6 x 60A Current Transformers
1 x CT Label Kit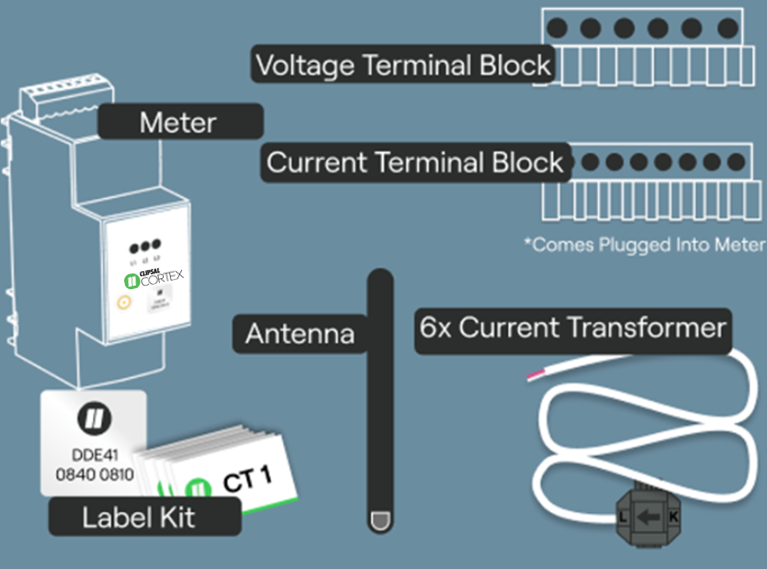 Hardware FAQs
Do I require sub-standard CT sizes?
The meter comes standard with 6x60A CTs with an internal diameter of 10mm. These CTs are sufficient for most residential situations. In some cases when the customer has a large consumer mains or thick insulation around the consumer mains, a larger CT may be required. Please contact the Clipsal Cortex Support Team to organise this.
Do I require an external antenna?
The meter uses 4G Cellular data to communicate. Each antenna comes standard with a small SMA screw in antenna.
In locations of low mobile reception, it is possible to use a high gain external SMA antenna. Contact the Clipsal Cortex Support Team for more details.