Clipsal Cortex Meter lights
Once the meter is installed and sending data to our server all 3 lights should be solid.
Use the table below for troubleshooting purposes if there is any issue with your device.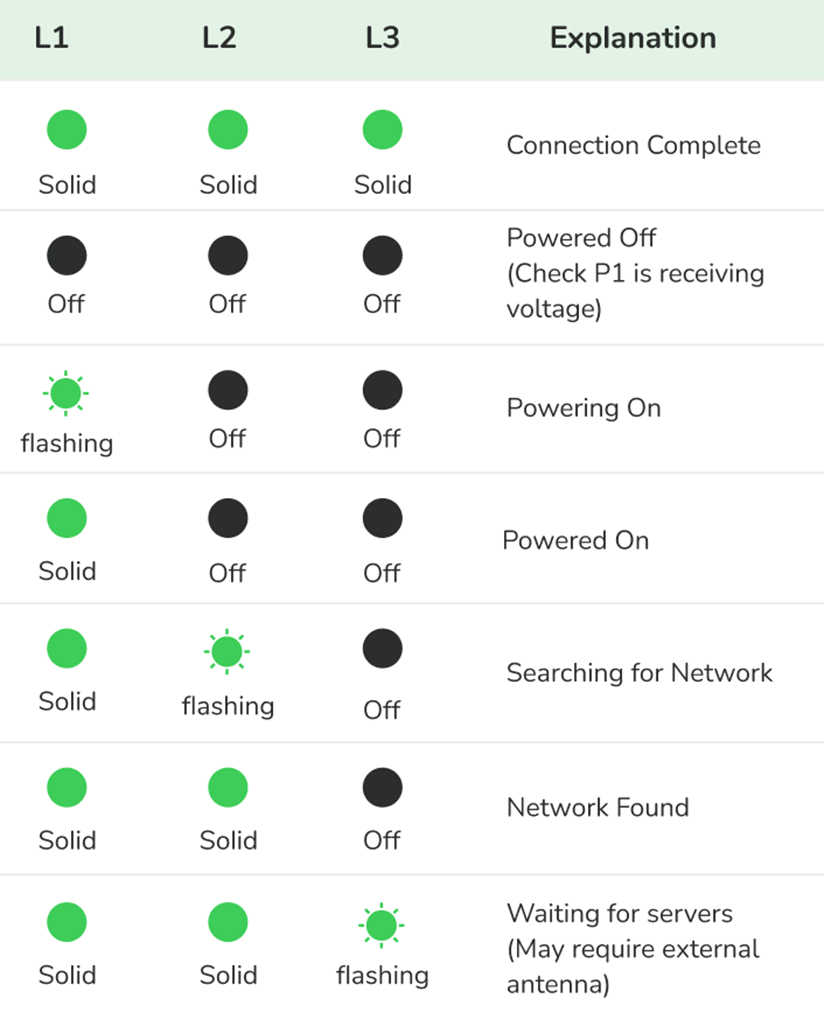 Troubleshooting
As a general rule, if the meter is stuck on anything except 3 solid lights, then power cycle the meter.
To power cycle
Turn the connected breaker that's powering the meter(s) off, wait 30 seconds or until all 3 lights have turned off, then turn it back on.
No lights are on
If no lights are on, check if P1 in the voltage terminal block is receiving voltage. If it is receiving voltage, the meter is likely faulty. Contact support to run through additional troubleshooting methods and organise a warranty case.
Only L1 is on or flashing
If only L1 is solid or flashing, try power cycling the device. If the problem persists, then contact support.
L1 solid, L2 flashing continuously (searching for network)
If the meter has begun searching for a network (1st light solid, 2nd light flashing) and becomes stuck in that stage, check the cellular reception at the meter and try changing the orientation of the antenna. If it doesn't solve the issue, you may need to install an external or high gain antenna to improve reception.
If problem persists with good reception, try power cycling the device or contact support.