There are three things to pay attention to before installing the Clipsal Cortex Meter(s):
Review the site's switchboard layout
Each Clipsal Cortex meter takes up two poles in a switchboard. The meter must also be powered by a 10A or less breaker with the same number of phases as the home. Single-phase houses only need a single pole breaker, while 3-phase houses will require a three pole breaker.
Note: It is possible to piggyback the meter's power supply from an existing 10A or less breaker such as lights to save space in the switchboard.
Create a current transformer (CT) design
Each meter comes with six CTs to measure up to six circuits.
The circuits which are required to be measured to gain full functionality of the Clipsal Cortex app are:
all grid circuits (1 for single-phase, 3 for 3-phase)
all solar outputs (1 for each single-phase inverter, 3 for each 3-phase inverter)
controlled load (if customer has)
battery (if customer has)
backup or hybrid circuit (if customer has)
Once all the above circuits are measured it should be discussed with the customer what loads they also wish to measure. We recommend measuring larger loads, with a preference for loads the customer can change the time of day they are operating so they can gain more benefit out of the solar. Some examples are: hot water, pool pumps, electric vehicle chargers and aircon.
We strongly recommend using the below sheet to keep a track of what each CT is connected to as it will be required when commissioning using the Clipsal Cortex Fleet app.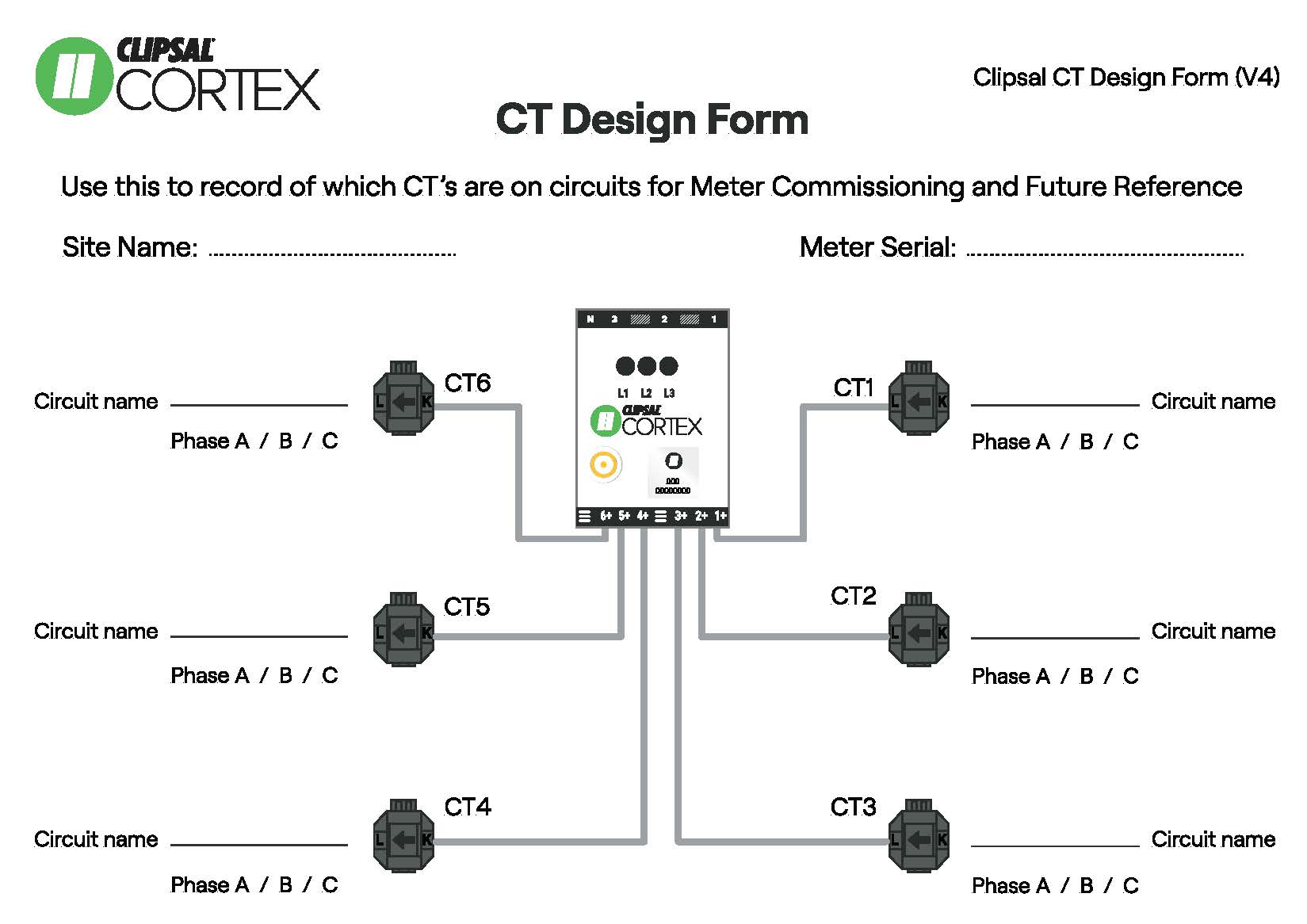 Click on the attachment below to download the CT Design Form. Link to PDF


Label CTs, meter(s) and switchboard
It is strongly recommended to label the CTs, Meter and Switchboard with the supplies stickers as they will save significant time when commissioning and troubleshooting the system.
Place the serial number on the front of the meter, otherwise you will not be able to see the meter's serial when the switchboard enclosure is closed.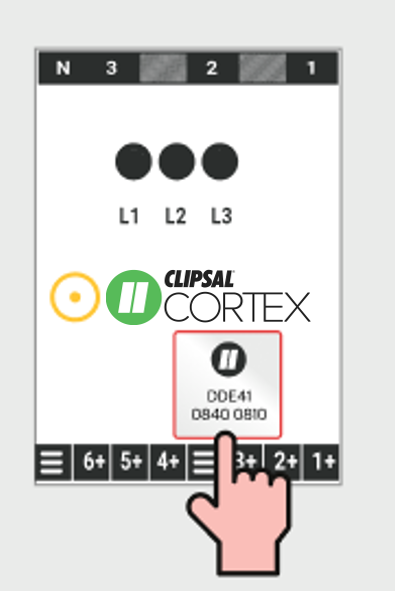 Sticker all 6 CTs from 1-6 at the top and bottom as shown.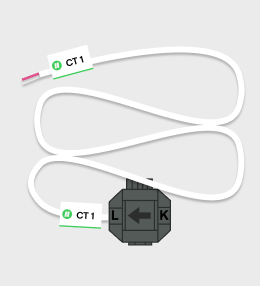 Note: It is the installer's responsibility to ensure that these stickers are compliant with local jurisdictions wiring rules.